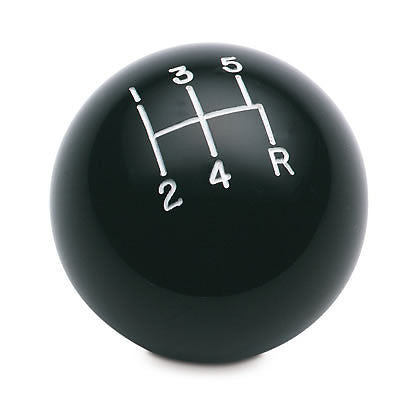 5 speed engraved shift knob BLACK: M12 x 1.25 for 2016-2017 Toyota Tacoma
Classic engraved shifter knob:
2 1/8" ROUND BALL of thermoset resin

5 speed shift pattern

Engraved, paint-filled; plain sides - no logo

M12 x 1.25 threaded brass mount

Jam nut included; knob will break if mounted w/o nut!

Made in USA by a Hurst supplier
Fits 2016-2017 Toyota Tacoma I4 - manual shifters w/ OE knob thread

Does NOT FIT Hurst sticks

Includes a rubber grommet to connect boot to stick
To remove old knob - grasp chrome ring under knob and rotate 1/4 turn clockwise looking down to disconnect ring from knob, and then unscrew knob. Slide chrome ring up off of stick, insert supplied grommet into ring and slide assembly back down stick. Alternatively, remove the console panel (lift first at front, and then work toward rear; at rear under console door pry trim straight up to release), flip the boot inside out, cut the cable tie holding the ring to the boot, and then reassemble and slide boot down to larger part of stick but that is a lot of work.
To install the new knob - first thread the jam nut down as far as it will go, with recessed side up. Screw knob down as far as it will go but as soon as it stops back it off up to one turn to align the pattern (do not force further down or it will break) and then bring nut up against knob and tighten with a wrench.
---
We Also Recommend