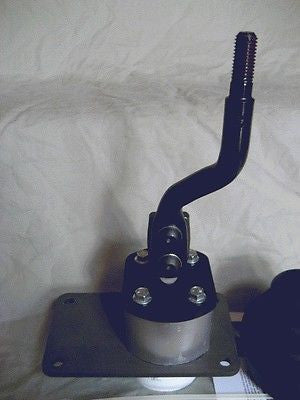 Shifter w/ short stick for Mustang : 1996-2001 V8 5 speed (T45)
Short throw shifter kit for OE replacement on 5 speed manual trans in:
1996-2000 Ford Mustang GT
1996-1999 Ford Mustang SVT Cobra
Early 2001 Ford Mustang GT & SVT Cobra - w/ trans code 6 only

Does NOT FIT later production - trans code K = TR3650
Only fits T45 5 speed manual trans specific to these V8 models
TR trans code on door tag begins w/ 6
Does NOT FIT any V6 or older V8 (= T5), newer V8 (= TR3650), or any other model; NOT for custom use - see swap bases
Lower bushing cup not included (reuse existing or buy separately). Comparable to Hurst #3915031 but specifically configured for T45 (no spacer shim needed). Designed for use w/ stock console boot.
~9.8" tall from base flange to top of stick; 23% throw reduction

Knob height is ~1" lower than stock

Knob NOT included (available separately if desired)

Stick has OE M12 x 1.75 knob thread
This kit is built by Core Shifters using proven components inside a custom housing:
High-strength billet steel gear selector stub
Hardened steel cross-pin & stainless steel fulcrum pivot ring
Self-centering cross-gate bias springs with heat treated spring seats
Glass-reinforced polyamide fulcrum socket with steel wear clips
Rubber oil control seal with steel retaining ring
Extruded aluminum housing with Spirolox steel support ring
Laser-cut steel lid & baseplate
Forged billet steel stick #5197
---
We Also Recommend